The Galloping Geno Returns: Powers Penguins Past Ducks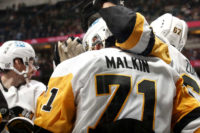 A streak of fire, a breath of flame; Eluding all who reach and clutch; A gray ghost thrown into the game; That rival hands may never touch; A rubber bounding, blasting soul; Whose destination is the goal.
Words penned by Grantland Rice in 1924 to describe The Galloping Ghost of football lore, the immortal Illinois running back Red Grange. They well could've been written to describe the play of Penguins superstar Evgeni Malkin last night. Back on the ice after missing the first 34 games of the season while recovering from knee surgery, Geno galloped and gamboled like a frisky colt set loose from the paddock for the very first time.
Indeed, in a return worthy of an ode from a Golden Age scribe of Rice's stature, the big Russian struck for two goals and added an assist, powering the Pens to a brisk 4-1 victory over the Ducks in Anaheim. Rightfully earning Geno first star honors, not to mention accolades from his coach and teammates.
"I just think (Malkin) brings so much," said skipper Mike Sullivan. "He makes us so much harder to play against.
Continue reading The Galloping Geno Returns: Powers Penguins Past Ducks at Pittsburgh Penguins - PenguinPoop Blog.