High drama in Denver as US take first blood in Nations League final against Mexico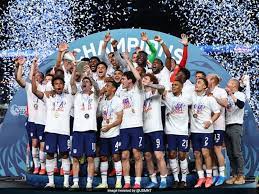 By Paul Nicholson
June 7 – It has been a long time coming but it was a final worth waiting for. The United States overcame Mexico 3-2 in extra time in the final of Concacaf's inaugural Nations League, a competition that began in 2019, but finished with all the theatrics and drama that will concrete this sport into the North American psyche.
The last time these two teams met in a major final was in the Gold Cup in 2019 where Mexico ran out 1-0 winners.
The post High drama in Denver as US take first blood in Nations League final against Mexico appeared first on Inside World Football.