Jordan reveals why Schumacher owed first F1 test to Nick Faldo
Former F1 team owner Eddie Jordan has opened up on an impromptu deal he once did with golf legend Nick Faldo to secure Michael Schumacher's first F1 test.
Jordan is an inexhaustible source of great stories, must of which will remain untold to the public for reasons of decency and privacy.
But the story of how one of Britain's greatest golfers was instrumental in getting Schumacher on an F1 grid for the very first time was just let out of the box by the 74-year-old Irishman.
In the summer of 1991, the sudden unavailability of Jordan's Bertrand Gachot in the run-up to the Belgian Grand Prix at Spa encouraged Mercedes to convince Jordan – with the help of a generous check – to entrust Gachot's vacant seat to its young protégé Michael Schumacher.
But the young charger had no previous F1 experience – and no experience of Spa's daunting track as it later turned out – Jordan insisted on testing the rookie onboard the team's 191 on the Wednesday before the Belgian Grand Prix.
However, Jordan was informed that the track had been booked that day by another party, which implied that Schumacher's all-important test could not be conducted.
Speaking to David Coulthard on the latter's new Formula for Success podcast series, Jordan explained how he managed to force the issue and get Schumacher the track time he and the team required.
"I couldn't get on to Silverstone because it had been booked by somebody," said Jordan. "I said 'who the hell can that be?' But they wouldn't tell me who.
"So I jumped in my car, drove over to Silverstone to find none other than six-times [golf] major winner Nick Faldo in his 956 Porsche, which he couldn't insure for the road so he had hired the track for the day.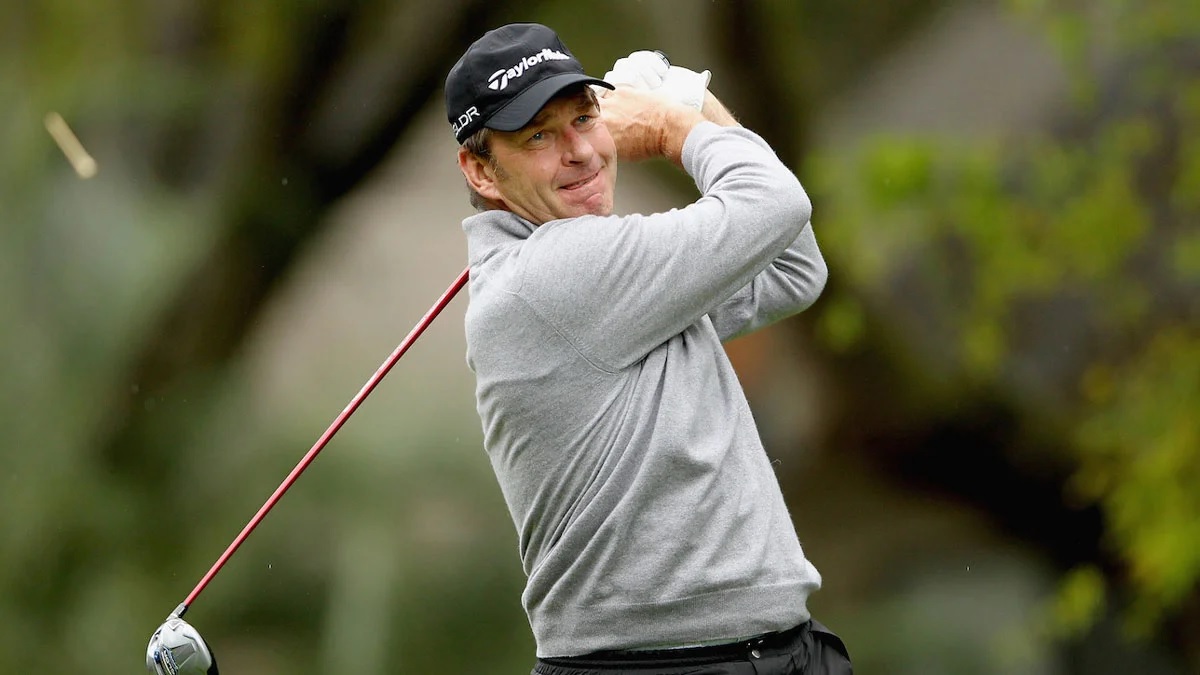 "I said to him 'Nick I think we might have to come to some sort of a compromise here and do a little bit of a deal. What if you would do me a massive, massive favour, when you're not running the car could we run and when we're not running you could run?'
"And after a little bit of argy-bargy, he struck a deal with me…and that's what happened."
But Faldo nevertheless drove a hard bargain and requested from Jordan in exchange for freeing up the track nothing less than a run in the team's stunning green – and quick – 191.
"For those that don't know Nick, he is about 6ft 4 [inches]. He is a giant of a man", added Jordan.
"Anyway, Nick when he tried to get in the car, couldn't, as you could expect, because these cars are tiny things. So, we had to squeeze him in sideways!
"The only problem was we couldn't actually get the steering wheel on and that was a major job.
"If anything had happened I would have been up for manslaughter as this was suicidal, it should never have happened, but he wanted to drive the car at all costs. And he did drive the car.
"He will probably tell us how well he drove it. But we know different! Anyway, that's Nick and he's an absolute champion."
Jordan said that Faldo, who had paid no attention that day to the driver testing with Jordan, was only made aware a decade later of whom he had shared the track with.
"It was only about 10 years later he rang me up, he said 'Look EJ, I just need to clear up something? Could you tell me, was the person that was in that car of yours that day, somebody's told me that was Michael Schumacher's first ever time in a Formula 1 car?!" And that is a true story.
"It was Michael Schumacher's first time in an F1 car, Nick Faldo gave him the laps on the track, and we gave Nick the car to drive around. Everyone went home happy, in particular Nick Faldo.
"And he now tells everybody because he's gloating on the fact that he actually tested the same car as the great Michael Schumacher!"
Keep up to date with all the F1 news via Facebook and Twitter
The post Jordan reveals why Schumacher owed first F1 test to Nick Faldo appeared first on F1i.com.