Scotland Depth Chart Conveyor Belt – Half Backs
Moving into the backs and it's time to consider the contrasting Conveyor Belts for scrum halves (well set) and stand offs (needs some clarity around the post-Finn Russell period).
Scrum Half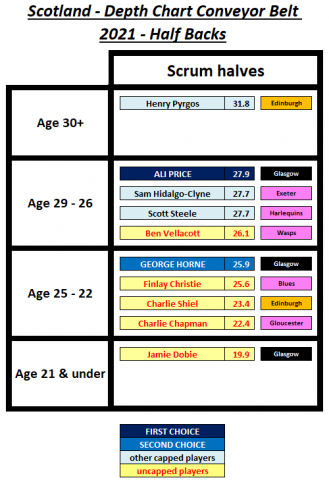 2019 RWC squad
Greig Laidlaw, Ali Price and George Horne
Looking ahead to the 2023 RWC
No country for old half backs. It seems moaning at referees is a young man's game with Henry Pyrgos the only over 30 in the scrum halves' Depth Chart. The former Glasgow Warrior is there for any emergencies but Gregor Townsend's selections are likely to move in a younger direction when looking for backup to the current one-two punch of Ali Price and George Horne.
The only real issue in this area for Scotland is that they could very shortly find that all three of their top choices are plying their trade for the same club. Jamie Dobie is pushing on fast and will be pressurising Price and Horne for the Warriors' shirt. If he's managing that then he will also be challenging the international pecking order. It's an issue that may well be resolved by Price moving on from Glasgow at the end of the 2021/22 campaign. Could Ali's bromance with Finn Russell be rekindled in the city of love, Paris?
It's almost ubiquitous to bring up Finlay Christie's name when discussing Scottish scrum halves. Age profile means the 2023 tournament may be the Blues' player's only shot at a World Cup. Unless he commits himself to a Northern Hemisphere club for the 2022/23 season he might not get that long discussed call-up given the existing resources at Gregor Townsend's disposal.
Most likely to be capped for the first time this summer:
Jamie Dobie. The Glasgow scrum half will be eligible to play in the under 20 Six Nations but if there are Test matches taking place he is almost certain to skip the age grade stuff and become a capped full international.
2023 RWC squad (speculative)
Ali Price, George Horne and Jamie Dobie
2024 and beyond…
If there is one position that the national team's hierarchy are likely to feel entirely comfortable with, it's scrum half. Why is it that Scotland manages to produce so many 9s? A role that tends to favour chippy shortarses who love to moan. Frankly, it's a mystery…
If Dobie looks like the heir apparent for Glasgow's 9 shirt then Charlie Shiel looks to have the best angle to be first choice at Edinburgh when the 2027 RWC rolls around. He will have to battle for game time with Ben Vellacott in the short term and is also likely to have Roan Frostwick (20.7) snapping at his heels for much of that period.
When it comes to selection for the national side there are plenty of prospects among the Exiles. At this point Charlie Chapman has taken the biggest strides towards making himself a first team regular with his club. He has played 13 times for Gloucester this season and is very sharp when it comes to exploiting defences.
Other options for 2027:
Gus Warr (21.6) – Sale. He's already made his Premiership and Champions Cup debuts and is currently on loan at Doncaster.
Murray Redpath (19) – Sale. Cameron's younger brother has followed closer in Dad Bryan's footsteps as a scrum half.
2027 RWC squad (highly speculative)
Jamie Dobie, Charlie Chapman and Murray Redpath
Stand off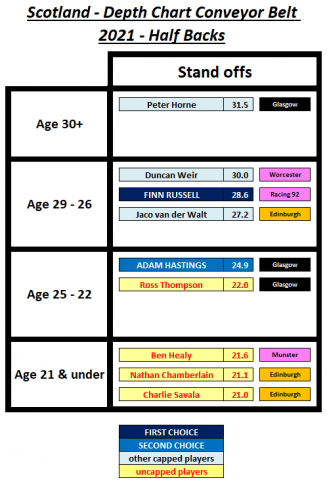 2019 RWC squad
Finn Russell and Adam Hastings
Looking ahead to the 2023 RWC
During the Townsend era, Finn Russell and Adam Hastings have had a duopoly over the stand off position for Scotland. Between the summer of 2017 and Autumn 2021, Peter Horne had a couple of goes in the 10 shirt and Ruaridh Jackson took it over once. Other than that it was Russell and Hastings all the way.
With both players injured in the same game against Wales last November, chances finally arose for others to stake a claim. Duncan Weir picked up two starts before he was omitted to allow Jaco van der Walt to debut at 10. Gregor Townsend followed this by leaving van der Walt as an unused sub in two out of three Six Nations' selections and opting to go with Stuart Hogg at stand off versus Italy. All of which rather suggests that the head coach is still looking when it comes to depth in this position.
Ultimately when it comes to the next RWC it's going to take an injury or a remarkable run of form for anyone to shift either Russell or (more likely) Hastings from the squad. Additional cover is likely to come from other positions (Stuart Hogg at full back and Cameron Redpath at centre) rather than travelling with a third specialist 10 who won't provide much utility within the squad.
Most likely to be capped for the first time this summer:
Ross Thompson and Nathan Chamberlain. It's tough to split the two men who could be going head-to-head with Glasgow and Edinburgh for years to come. Chamberlain got his opportunity earlier in the season but has spent an awful lot of the campaign gathering splinters as an unused sub. Thompson has slipped into the pivot role at Glasgow like he was born to it. If there is only room for one of these players this summer then Ross is probably just ahead in the queue right now.
2023 RWC squad (speculative)
Finn Russell and Adam Hastings
2024 and beyond…
Much depends on how long Finn Russell wants to continue on beyond France in 2023. His understudy, Adam Hastings, will himself be 31 by the time of the 2027 tournament. Not an elder statesmen by any manner of means but with his game based on his athleticism and taking the ball to the line, he'll need to develop how he plays as he starts to slow down a bit.
Both Ross Thompson and Nathan Chamberlain should come into contention for the national side this summer but it's likely to be the 2027 RWC cycle that will really be their time to shine. They might have been joined by Ben Healy but with the Irish-born stand off turning down an approach from Glasgow and moving on to a full-time contract with Munster it seems more likely he will end up in the emerald green of his country of birth rather than the dark blue of Scotland.
Beyond Thompson and Chamberlain there are a number of further prospects coming through. Euan Cunningham, Cameron Scott and Christian Townsend have all been included in the Scotland u20s training squad for the upcoming Six Nations. Cunningham and Scott are Stage 3 Academy players with Glasgow and Edinburgh respectively. Townsend (yes, son of the national team boss) will play for Ayrshire Bulls in the Super 6 and is likely to move into the senior Academy system linked to the Warrriors.
There's a long way to go with the development of these players but it's a rarity for Scottish rugby to have numerous options in this position and this could augur well for Edinburgh and Glasgow as well over the course of the next decade. There may not be another Finn to call upon but there might well be greater strength in depth and less reliance on one man.
2027 RWC squad (highly speculative)
Nathan Chamberlain and Ross Thompson
The post Scotland Depth Chart Conveyor Belt – Half Backs appeared first on Scottish Rugby Blog.