Tokyo Tech cycle-ballers turn to crowdfunding to help sport survive
Students in the cycle-ball team from the Tokyo Tech Cycling Club have launched a crowdfunding campaign to help the sport survive in the future.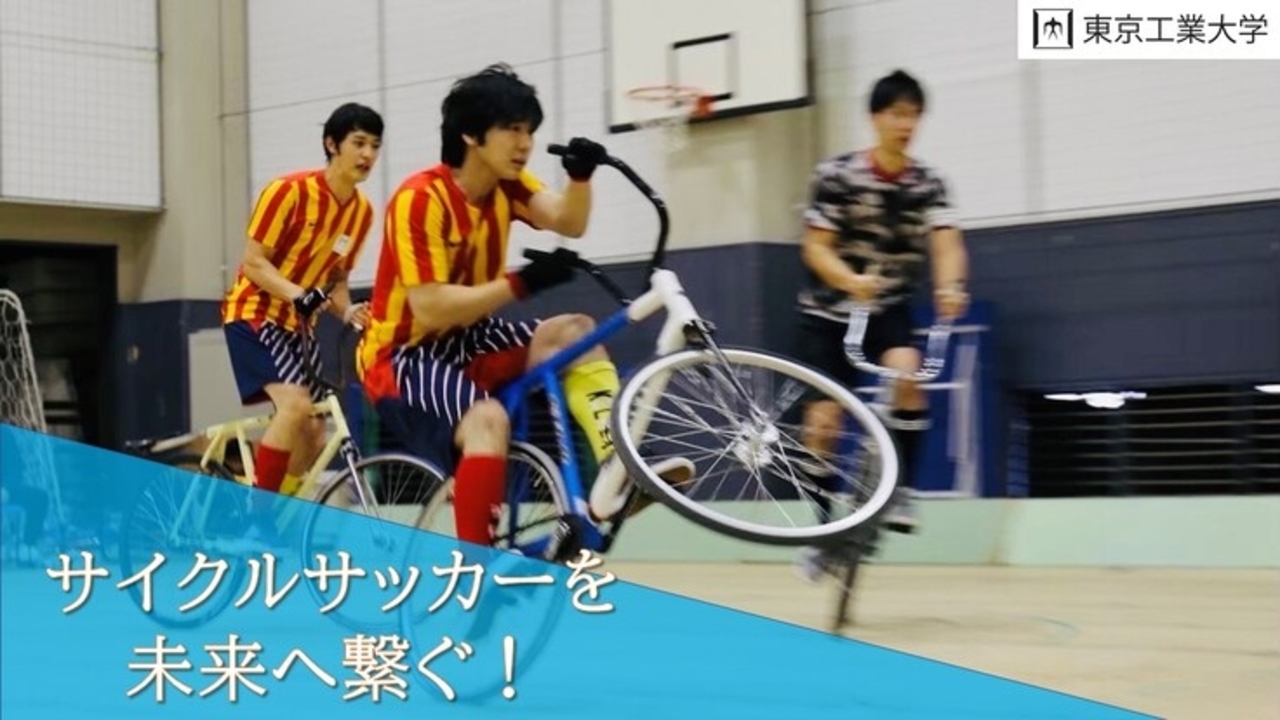 The popularity of cycle-ball has been in decline for some time. During the golden years of the sport approximately 50 years ago, some 20 teams from educational institutions across Japan played cycle-ball competitively, and Tokyo Tech was a center for the sport. The Institute has produced a number of cycle-ball players who have competed at the global level. Today, there are only five teams in Japan — four in the Kansai region and Tokyo Tech in the Kanto region.
Bicycles specially designed for cycle-ball are expensive, and large courts are required for practice sessions and matches. These factors are now threatening the survival of the sport, and Tokyo Tech members want to stop this trend before the sport dies out completely. The cycle-ball teams will use the donations received to fund new competition bicycles and bicycle repair parts, new goals, balls, and courts to improve the practice environment for current and future cycle-ballers. The crowdfunding campaign runs until early May 2022. Visit the campaign website now and help revitalize this unique sport!
What is cycle-ball?
Cycle-ball is a soccer-like sport played indoors by two teams of two players each. Five-aside matches outdoors are also possible, but less common. Using a specially adjusted bicycle with no gears or brakes, players dribble, pass, and shoot the ball using the wheels of their bicycles. As most of the action takes place while standing on the pedals, the handlebars face upwards, and the bike allows players to pedal backwards.
The special cloth ball used during games is 17 to 18 cm in diameter and weighs 500 to 600 g. The court measures 11 m by 14 m, and teams of two play two seven-minute halves. Feet should never be touching the ground, and hands can be used only at the defensive end. Most players in Japan get to know the sport while at university.
YouTube - Compilation of Tokyo Tech cycle-ballers demonstrating their skills
Tokyo Tech cycle-ball team
The Tokyo Tech cycle-ball team, established 55 years ago, currently includes 22 men and 6 women from Tokyo Tech and Ochanomizu University. The club meets every Wednesday evening and on some weekends for practice sessions on Ookayama Campus. These sessions include basic skills training and 7-minute matches that simulate competition settings. As cycle-ball is a minor sport, the team has no manager or coach, and therefore the passing of skills from more experienced players to younger generations is particularly important.
Contact
Crowdfunding Service, Student Success Support Section, Student Support Center