South Central Region honors for Lauren Gregory, Chris Johnson
NEW ORLEANS – A pair of Razorbacks were recognized with USTFCCCA South Central Region honors as Lauren Gregory earned Runner of the Year while Arkansas associate head coach Chris Johnson claimed Assistant Coach of the Year, as voted upon by coaches.
Gregory produced 11 points during the NCAA Indoor Championships, finishing third in the 3,000m with an 8:59.50 and fourth in the 5,000m with a career best 15:32.95. Arkansas totaled 40 points in the meet to place fourth.
In the SEC Indoor Championships, Gregory shared high point honors as she totaled 20 points from winning the 3,000m, placing second in the mile, and anchoring the distance medley relay to a runner-up finish.
Career best marks for Gregory also included 4:32.67 in the mile and 8:53.77 in the 3,000m. On the UA all-time lists, Gregory is No. 4 in the mile, No. 2 in the 3,000m and No. 2 in the 5,000m.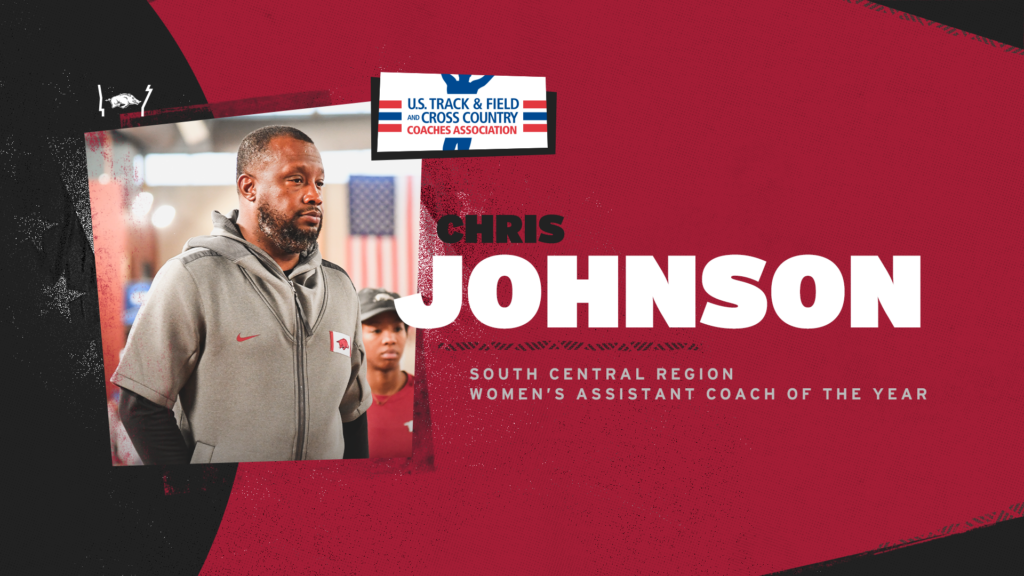 Johnson earned his fourth South Central Region indoor accolade with the Razorbacks. He also claimed four consecutive Mid-Atlantic Region indoor honors with Penn State from 2008-2011.
Overall, including outdoor season honors, Johnson's total of region coaching awards is 13 with three national coaching accolades.
In addition to Arkansas earning a fourth-place trophy at the 2022 NCAA Indoor Championships, the Razorbacks totaled 127.5 points in capturing an eighth consecutive SEC Indoor title.
Johnson's event group supplied 18.5 of the 40 points Arkansas scored at the NCAA Indoor meet, along with 50 points in the conference meet.
Johnson had 12 entries among six events qualify for the NCAA Indoor Championships. They combined for seven first-team All-America honors and eight second-team honors.
The Razorbacks broke the collegiate record in the 4×400 relay with a 3:24.09 victory at the SEC Indoor, chopping an astonishing two seconds off the previous record of 3:26.27 set by Texas A&M in 2021. The performance ranks No. 4 on the all-time world list behind a pair of Russian marks and one by Team USA.
Britton Wilson anchored the collegiate record performance with a 49.83 split, the second fastest split ever run indoors and just the fourth sub-50 second split. Wilson finished runner-up in the 400m with a UA school record of 50.88 seconds.
Arkansas capped the NCAA Indoor meet with a 3:27.23 victory in the 4×400 relay, the eighth fastest performance on the all-time collegiate list.