From the Desk of Hunter Yurachek: March 2
If you love college sports and nationally ranked teams, there is no better place to be in the country than the University of Arkansas campus! It has been an extraordinary spring semester thus far and this past weekend was a national showcase of our program, our university and our state.
Last week, our Razorback Athletics team hosted 26 athletics events on our campus, including the multi-day 2021 SEC Indoor Track and Field Championships at the recently renovated Randal Tyson Track and Field Center.
During the past week, the Razorbacks won both the men's and women's SEC indoor track and field championships, eight softball games, five baseball games, four basketball games, three tennis matches and a soccer match.
It truly was a phenomenal week and there were plenty of Hog Calls echoing through the Hill. Congratulations to all of our student-athletes, coaches and the Razorback Nation that passionately cheers us on!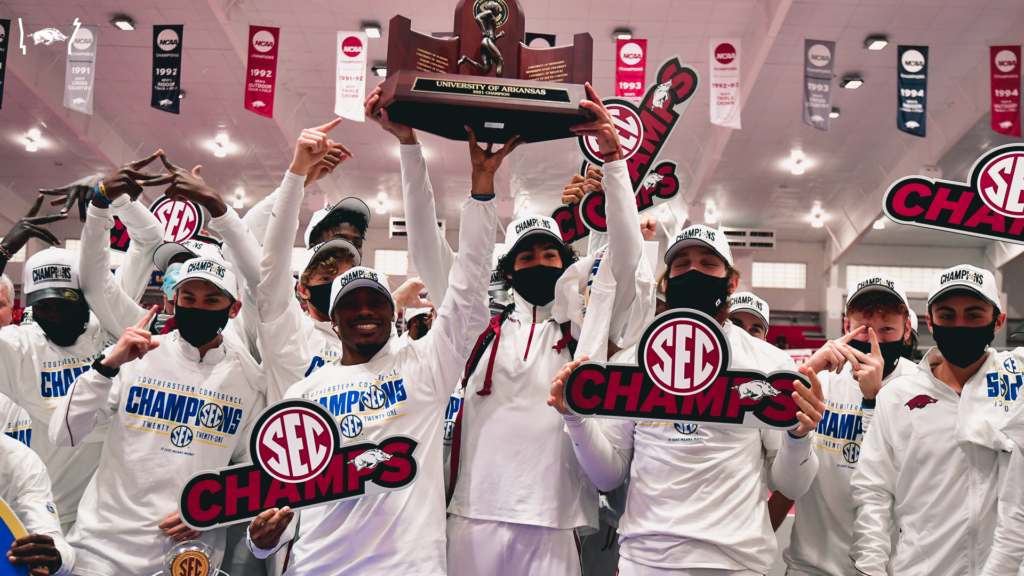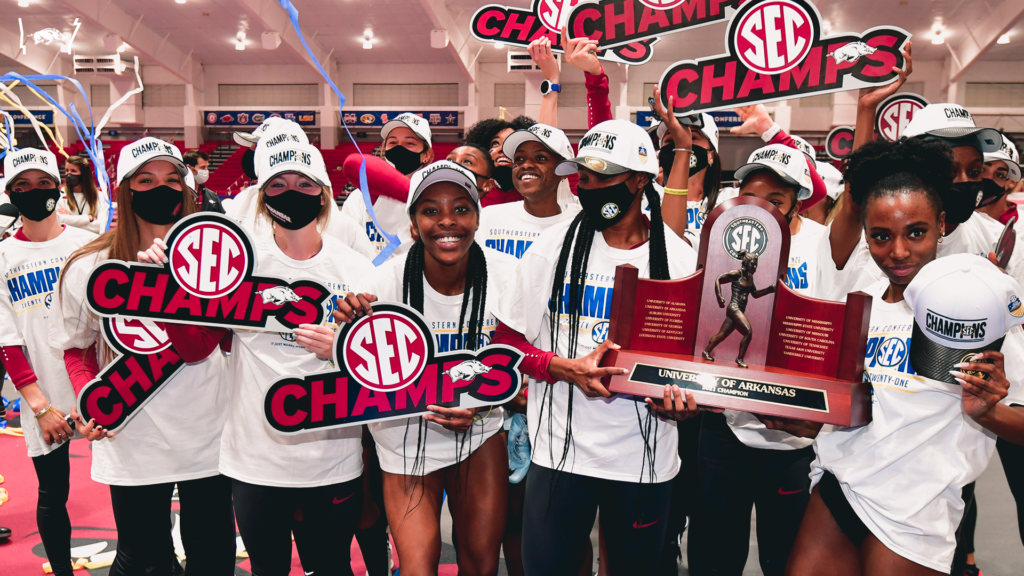 ---
Championship Double
With the University of Arkansas hosting the 2021 SEC Men's and Women's Indoor Track & Field Championships, the SEC team trophies never even had to leave the building. The Razorbacks continued their dominance of SEC track and field by sweeping both the men's and women's team titles for the eighth time, including the fifth time since 2012-13 when the conference expanded to 14 schools.
Coach Chris Bucknam and the Razorback men's track and field squad displayed tremendous depth racking up 116 team points in 17 events, despite not capturing an individual event or relay title. It was the first time in history of the SEC Indoor, dating back to 1957, a team accomplished a championship in such a manner. The team crown was the 24th for the Hogs in 30 tries since joining the SEC.
Coach Lance Harter and the No. 1 women's track and field team made its own history, winning a seventh-consecutive SEC indoor title. Arkansas earned 141 points, second-most in school history, and lapped the field by more than 60 points. Krissy Gear won the individual mile title, becoming the fourth-consecutive Razorback to win the mile at the conference indoor meet. In the 4×400 relay, Arkansas produced a school record of 3:28.50, which also broke the meet record set by LSU in 2005, making the Razorbacks the sixth fastest school in collegiate history.
Congratulations to both squads and best of luck as they return to the Randal Tyson Track Center, March 11-13, for the NCAA Indoor Track and Field Championships.
---
Ranked Razorbacks
Never before has as many Razorback teams been ranked simultaneously in their respective sports. This week, 14 of our 16 competing sports are nationally ranked. In recent weeks, women's tennis moved into the national rankings and baseball moved to the top of the college baseball polls. It is a great time to be an Arkansas Razorback!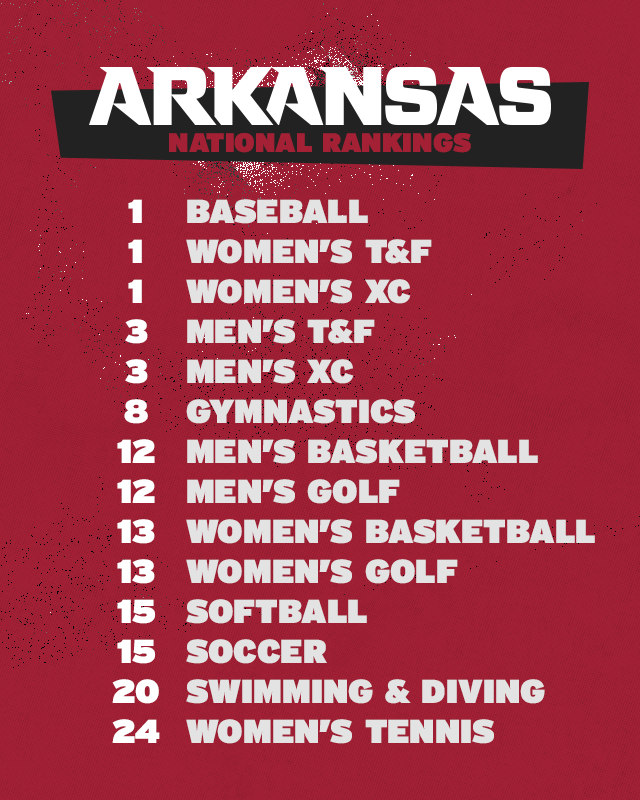 New No. 1 in Town
There is a new No. 1 team in college baseball! After a torrid 7-0 start, the Arkansas Razorbacks are the nation's top team in five of the six major college baseball polls, including Baseball America and D1 Baseball. It marks the first time Arkansas has been ranked No. 1 in the Baseball America rankings since it began in 1981.
Coach Dave Van Horn had his squad playing at mid-season form since the onset sweeping three games against top-10 ranked opponents (No. 3 Texas Tech, No. 9 Texas and No. 10 TCU) at the State Farm College Baseball Showdown at Globe Life Field in Arlington, Texas.
This past weekend, the Hogs took four games from Southeast Missouri State in the opening series of the season at Baum-Walker Stadium. Arkansas will host Murray State this weekend before heading on the road to Louisiana Tech the following weekend.
---
Perfect Month
No one made more out of February, the shortest month of the year, than Coach Eric Musselman and the Razorback men's basketball team. Arkansas (19-4, 11-4 SEC) won all six games it played last month and has now won nine of its last 10 games, including nine-consecutive SEC contests.
The Hogs are in second place in the SEC and continue to rise in the national polls. Arkansas is ranked No. 12 and No. 13 in the AP and USA Today polls, respectively.
Last week, Arkansas took down No. 6 Alabama and then LSU on Senior Day at Bud Walton Arena. This week, the Razorbacks travel to South Carolina on Tuesday night before hosting Texas A&M in a rescheduled game on Saturday afternoon. The SEC Men's Basketball Tournament in Nashville, Tennessee awaits the following week.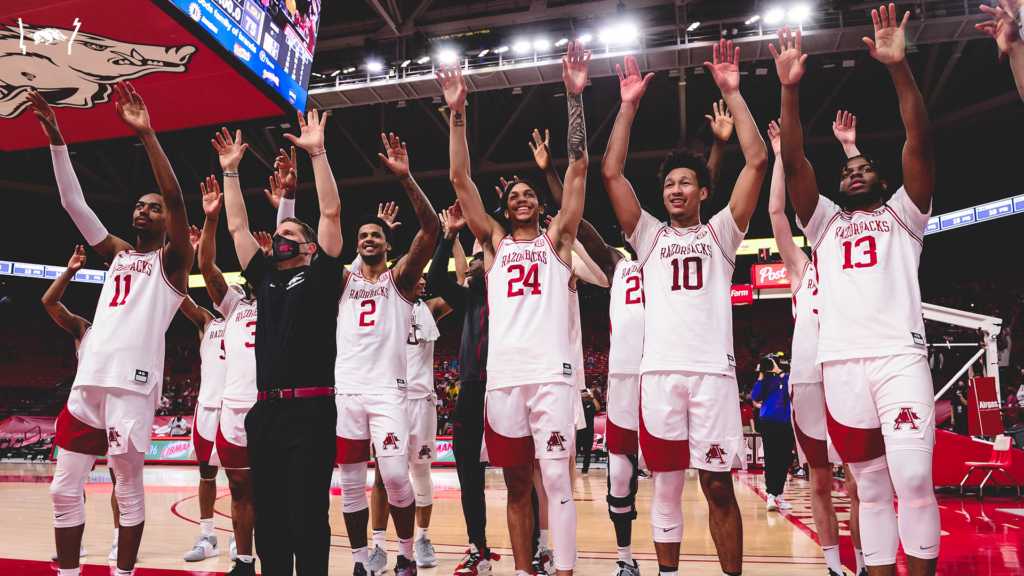 ---
Finishing Out with a Flurry
Senior Amber Ramirez and her women's basketball teammates made certain that Senior Day at Bud Walton Arena on Sunday was memorable. Ramirez scored a career-high 35 points, including making eight three-pointers, to lead Arkansas to a 94-76 win over Alabama. Arkansas (19-7, 9-6 SEC) set an SEC record with 19 team three-point baskets.
Arkansas is the No. 6 seed in this week's SEC Women's Basketball Tournament in Greenville, South Carolina. The Razorbacks will open the tournament on Thursday evening against Ole Miss. The game is the second of the evening session and will begin at approximately 7:30 p.m. CT and will be televised by the SEC Network.
---
Bogle Bombers
Make way for the Razorback softball team! Coach Courtney Deifel's squad has won 10 games in a row and has been using the long ball to rack up some early season wins.
Arkansas (11-2) earned eight wins in just the past week, including a 6-0 performance in a weekend tournament at Bogle Park. In those eight games, the Hogs hit 22 home runs and averaged 7.5 runs per game. Meanwhile in the circle, Razorback pitchers shut down opponents sporting a 1.65 ERA and holding opponents to a .148 batting average.
The No. 20 Razorbacks will host the Wooo Pig Classic at Bogle Park this Thursday through Saturday.
---
Re-Writing the History Books
The No. 8 Razorback gymnastics team continues to revise school records. On February 19, the GymBacks scored a program-record score of 197.350 in a win over No. 25 Missouri. Last weekend, junior Kennedy Hambrick earned an all-time Razorback individual high score of 39.750 in a meet against No. 6 Alabama. Hambrick's score ranks second in the nation this season.
It was a special evening at Barnhill as the Razorbacks celebrated Women's Empowerment Night and honored the program's seniors. Up next for gymnastics, a road trip to Auburn this Friday before competing in the SEC Gymnastic Championship in Huntsville, Alabama on Saturday, March 20.
Additional Razorback Sports Highlights
Congratulations to the women's swimming and diving team who scored a school record 595 points to earn a program-best No. 8 finish at the recent SEC Swimming and Diving Championships.
The No. 24 women's tennis team continues to make headlines with its play this spring. Arkansas is 9-0 (3-0 SEC) this spring after wins last weekend over Memphis and Missouri. It is the best start by the Razorback women's tennis team since a record 10-0 start in 2005.
The No. 12 Razorback men's golf team is back in action this week at the Cabo Collegiate Golf Tournament, being played this year in San Antonio, Texas.
The No. 13 Razorback women's golf team will hit the links for the third time this spring next week at the Gamecock Intercollegiate in Columbia, S.C.
Men's tennis (6-4) and volleyball (11-5) return to action this week. Men's tennis has road matches at Kentucky and Vanderbilt. Volleyball will travel to Gainesville, Florida to take on the Florida Gators.
Coach Sam Pittman and the Razorback football team will open spring practice on March 9.
Make sure you stay updated with all the latest schedule information with our Razorback Athletics All-Sports Calendar.
Additional Hog Yeahs ……..
Courtney Deifel – 

Congratulations

 to Coach Courtney Deifel who earned win No. 150 as a coach at Arkansas in the Razorbacks 9-0 win over Texas Tech on Friday. Deifel is the fastest coach in school history to 150 softball wins, in just 259 total games.
Mary Haff – The win was also a record-setting performance for senior pitcher Mary Haff who hurled the ninth no-hitter in school history in the 9-0 shutout of the Red Raiders in five innings.  
Chelsea Dungee & Destiny Slocum – 

Congratulations

 to Chelsea Dungee and Destiny Slocum on their selection to All-SEC teams in women's basketball. Dungee earned first-team honors while Slocum was selected to the second team.
So many exciting things happening with plenty more ahead. Hang on everyone it is going to be a great Razorback spring!!
Go Hogs!
Hunter