Lauren Gregory returns to racing in SEC Preview
Arkansas opens the 2020 cross country season with a visit to Baton Rouge for the SEC Preview hosted by LSU on Saturday, September 19, at the University Club with the women racing at 9:45 a.m. over a distance of 5,000m.
Teams competing in the SEC Preview include LSU, Mississippi, Mississippi State, and Texas A&M. A crew of 14 Razorbacks are scheduled to compete in the meet, which will be open to spectators with masks required.
"We're trying to get that team chemistry solidified in a competition setting," said Arkansas women's head coach Lance Harter of the season opener. "Everything up to now has been just practices. It's impossible to simulate a racing format in a competitive spirit, so to speak.
"So, we're looking forward to the opportunity to let all these new faces come together and wear a common uniform and then go right into the heat of the battle with some of our formidable SEC foes."
Leading the squad are two members of the national championship team from last season, seniors Abby Gray and Lauren Gregory. Returning Razorbacks racing in the first meet of the season also include Josie Carson, Quinn Owen, Alex Ritchey, Meghan Underwood, Isabel Van Camp.
Making their debut for Arkansas in cross country are Taylor Ewert, Logan Morris, Lainey Quandt, Julia Paternain, Corie Smith, Kennedy Thomson and Tori Willis.
For Gregory, this marks her first competition since racing in the NCAA Cross Country Championships last November. She used a redshirt season during the 2020 indoor campaign to heal some aches.
"For me I'm just happy to be healthy again," noted Gregory. "It takes a long time to get back into the groove of things, especially with running and being out for so long. Coming off of last year and still having that memory fresh in my mind and then the momentum coming into this season is really great."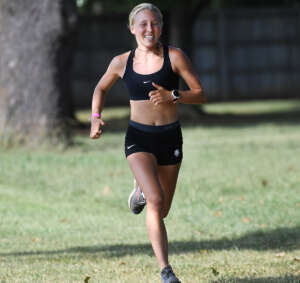 Gregory opted not to redshirt during the 2019 cross country season, instead offering her services to a team seeking the program's first national title in cross country. She was the fifth finisher for the Razorbacks in the national meet as Arkansas secured the NCAA title by six points over BYU.
"I think anyone would have done it for each other on that day," explained Gregory. "It wasn't a sacrifice I wasn't willing to make, but I think it had a bigger toll on me after the fact that I didn't really expect. Just mentally and everything of just wanting, so badly, to be healthy and to continue on with that momentum of winning nationals and then getting to run during the indoor season."
Harter added: "What people don't understand is last year Lauren was no way near 100%, but she was still able to be in a scoring position for us and secured the national title in a very close finish with BYU.
"Lauren did a fantastic job and sacrificed a redshirt season for this team. Once she stepped forward and said we're going to go for it, it made everyone accountable."
Now, a new season awaits as well as an opportunity to race again with teammates and help guide newcomers to a Razorback program that can enjoy being classified as the defending national champions.
"We do have a pretty big group of new girls, so it's kind of nice to just rewrite everything, start fresh and try some things we haven't tried before," said Gregory.
"I think that because it happened and everyone knows that it happened nationwide in cross country, it's cool because we don't have to remind anyone that we are national champions. Everyone came in here with the memory and the idea that we did do something very special."
Memories of the national championship experience for Gregory focus more on the celebrations after the grueling race amid very wet and freezing conditions in Terre Haute, Indiana.
"I don't remember much from within the race, and I think everyone shares that feeling of just not knowing what's going on the whole time," stated Gregory. "But I just remember coming into the chute and I couldn't see anything but my teammates, not even just the one's who were racing, but the people who drove all the way to Indiana to support us.
"I think that was the best feeling, all of sudden being in a huge mass of people racing that you didn't know, and then finishing and looking up and seeing everyone that you did know. All of my roommates, close friends and people I'm neighbors with, it was just incredible having that support group and everyone who was there being supper happy for each other."
That level of support also played dividends during Gregory's recovery period, which was extended past the indoor season when the coronavirus pandemic canceled the outdoor season. So, after nine months of training and recovery, Gregory is ready to toe the line again.
"Everyone here has been so supportive of me, just working my way back into things," Gregory said. "To have outdoors be canceled was hard for me, but harder for my teammates who were still in the swing of things. For me, it gave me a good time to just reboot and recuperate. I'm excited for this year, with whatever it holds, and just to be flexible with things."
Comments on the upcoming season from Coach Harter & Coach Bucknam