As I walked into Barnhill Arena last October for a men's basketball Red-White game, I could not help but harbor a bit of nostalgia. The longtime sports venue has stood for more than six decades on the University of Arkansas campus, including its 36-year run as the home to Razorback Basketball. Barnhill Arena still serves as the home to multiple sports, graduations and a handful of special events. Yet basketball is at the core of its DNA.
The adage suggests that absence makes the heart grow fonder. In the case of Barnhill Arena, the observance of time has been irrelevant to the ongoing love affair Razorback fans have with the venerable venue. There was always something special about a building that literally was transformed from sawdust into one of the most difficult places to play in the nation.
Erected in 1955, Barnhill Arena could house up to 5,000 fans in its first two decades. Many times, far fewer seats were actually needed. But when with the arrival of The Triplets, Sidney Moncrief, Ron Brewer and Marvin Delph, Barnhill Arena was in for a growth spurt. Thanks to the budding passion for basketball in Arkansas, Barnhill Arena expanded from 5,000 to a capacity of 6,200 in 1977 and then rose again to 9,000 just a year later. It was what would prove to be the formative years for an arena that was set to enjoy the prime of its life in the years to come.
Much like its on-campus venue, Razorback Basketball used its time in Barnhill Arena to build its foundation piece by piece until the program itself had also outgrown its humble beginnings. With Arkansas' increasing success and its recent move to the Southeastern Conference, the time seemed right to look to the future.
When Coach Frank Broyles first announced plans to build a new arena, there was plenty of trepidation. The promise of a shiny new expanded home was certainly alluring. Tickets were hard to come by. Barnhill Arena was busting at the seams. Coach Nolan Richardson had the Razorbacks rolling. Yet there were tinges of uncertainty among the Razorback nation.
Barnhill Arena's high arching seating on the north and south sides, turned the echoes of Hog Calls into a deafening wall cloud of noise as unrelenting for opponents as the Hogs' full-court press. Would a new arena be able to maintain the magic that had been created?
On March 3, 1993, Razorbacks gathered one final time at Barnhill for the swan song in what had been an Arkansas basketball symphony. It was only fitting that the final regular season game be one that had something on the line. Arkansas was trying to close the books on an SEC Western Division championship with only LSU standing in the way.
As a student assistant in the sports information office, I was afforded a chance to be a part of Razorback history. Little did I know that I would be involved in the first fast break of the historic night. It all started with an idea from legendary band director Jim Robken. He wanted to put a little pomp and circumstance into the transition of home venues and facilitate the transplant of the emotional connection Razorback fans had with Barnhill Arena to a location just a few blocks south down Razorback Road.
Approximately 90 minutes before tipoff, I was summoned by assistant sports information director Bill Rogers to run an important errand. Moments later I was headed to the Northwest Arkansas Mall to pick up a special participant in the night's festivities. When I arrived at the assigned location, a jewelry store with items far beyond a college student's bankroll, I identified myself and my affiliation with Razorback Athletics. Soon a medium sized padded box was handed to me with the required admonition – "Be extremely careful with this package as it is very fragile."
With every step I took back to the car, I tried to fight off the numerous thoughts of potential demise. After all, my paltry stipend would not even be enough to buy a broom to sweep up the scene of the fine craftsmanship crime. I focused intently, gripping the package tighter with every step toward the car.
By the time I returned to Barnhill, the arena was filled with electricity. Fans had filled in and even warmups had a big-game feel. As the scoreboard clock slowly ticked toward zeroes and the final tipoff was set to commence, Coach Nolan Richardson emerged from the southwest tunnel to make his trek to the nearby Razorback bench. Clad in a black dress shirt, accented by a red flowery tie and a cardinal red leather jacket, Richardson could attempt to tell his team this was just another game, yet his outfit would suggest otherwise. Senior Night is always a bit nostalgic, but when you are also saying goodbye to an iconic arena as well, it is a combination rarely duplicated.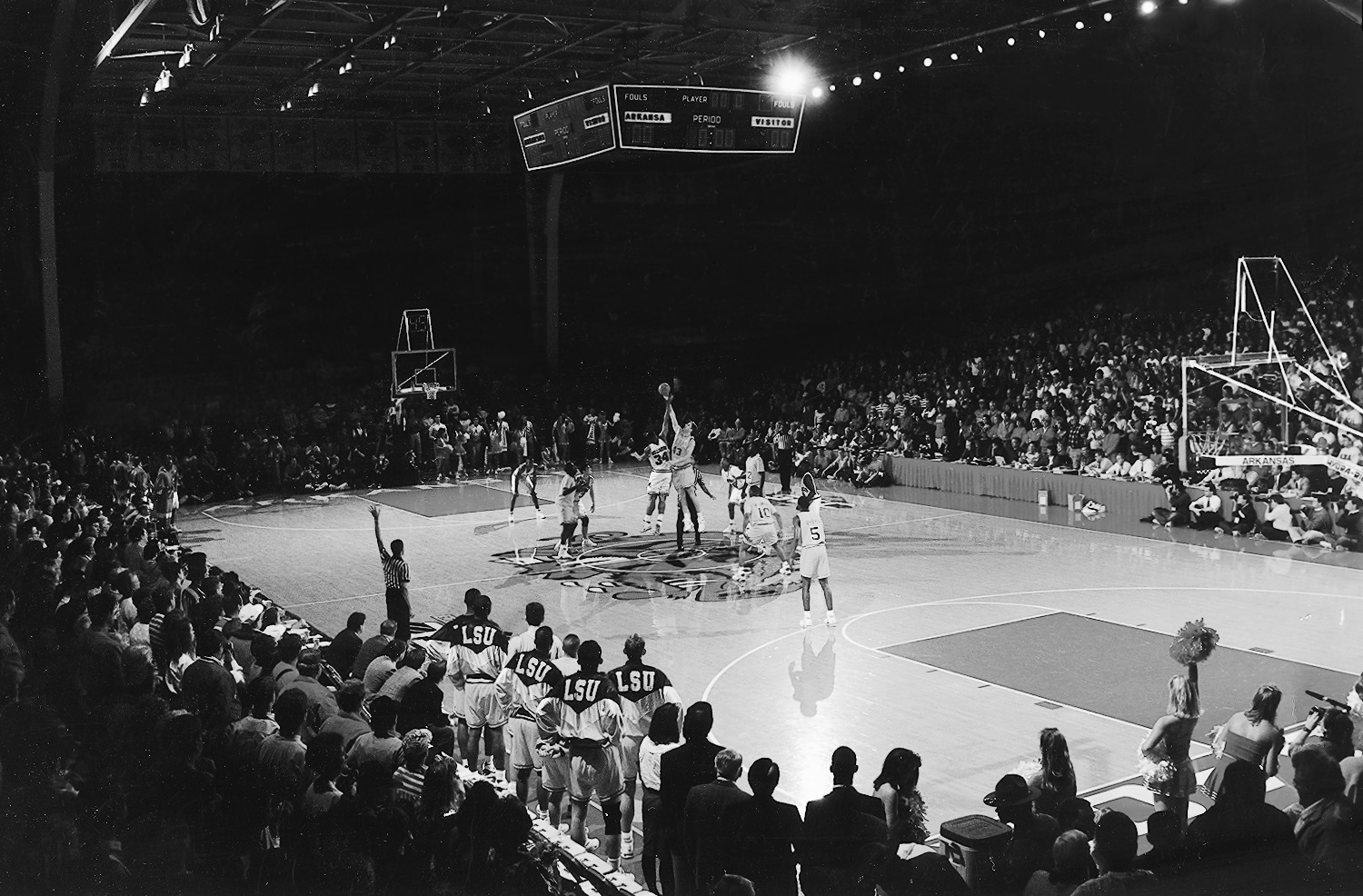 As the ball was tossed at midcourt, longtime Razorback photographer Walt Beazley snapped an iconic shot that would capture the moment for posterity. To be candid, that was the last moment the winner of the game seemed to be in doubt. Arkansas, ranked No. 13 in the nation, jumped out to a fast start and raced to a 51-34 halftime lead. A heralded freshman named Corliss Williamson led the way finishing with 19 points and five rebounds as the Hogs cruised to an 88-75 victory. The win capped a 22-9 regular season for the Hogs, including a 10-6 record in SEC play. Arkansas captured the SEC Western Division crown and went on to advance to the Sweet Sixteen in the NCAA Tournament.
As the buzzer sounded, there was a brief celebration on the court. The crowd called the Hogs. The band played "Hard to be Humble." The game was complete, yet no one in the sellout crowd of 9,660 headed for the exits.
A table was set near midcourt, complete with a red table skirt with impeccable pleats. A microphone was placed and a ceremony was soon underway. There were a number of scheduled speakers that night – Frank Broyles, Coach Sutton, Robken and Coach Richardson – and one impromptu guest. Never shy of a microphone or a moment, LSU head coach Dale Brown asked to address the crowd. He was quickly added to the agenda and delivered one of the most heartfelt tributes that could have been imagined by someone whose team had just been waxed by Hogs' famed 40 Minutes of Hell. It was a classy gesture and a memorable part of an unforgettable night.
The box I had delivered had made its way to center court too. Unearthed from layers of padding and tissue paper emerged a beautiful, articulately accented crystal bowl. In the closing moments of the ceremony, a spotlight was focused on the crystal and the crowd was invited to raise their voices and cheers one last time to fill this sparkling vessel with the Spirit of Barnhill.
The crowd swelled one final time, cheering the past, the present and what would be the Razorback future. It was a fitting way to close this chapter of Razorback Basketball – with the fans of Arkansas – taking an audible oath to transfer the Barnhill atmosphere to its new home – Bud Walton Arena.
The transplant was an undeniable success. A little more than a year later, Arkansas had captured its first basketball national championship and Bud Walton Arena was the mecca of college basketball. More than 25 years later, the Spirit of Barnhill lives on its new home. There have been many ear-splitting moments echoing off the rafters of Bud Walton Arena in the past quarter century. Time and time again, Razorback fans have answered the call and made a trip to Fayetteville a formidable foe for opponents with a vast majority of teams leaving town with a loss.
Yet for those who experienced its predecessor and were on hand for "The Night the Lights Went Out in Barnhill," a quiet reminder of days gone by still greets them in Bud Walton Arena's south lobby museum. There, behind a pane of glass, at the entry to the museum, sits that familiar crystal bowl – The Spirit of Barnhill.
In the folk lore of Razorback Basketball, the sparkling bowl is credited with capturing and carrying the essence of Barnhill Arena just down the road to Bud Walton Arena. The Spirit of Barnhill is more than just simply a memento from our past – it is a piece of our shared sentimental history. It offers a crystal clear reminder of the unifying strength of our storied history and a shimmering reflection on the need to preserve our treasured Razorback traditions for generations to come.
Razorback Road is a column written by Senior Associate Athletic Director for Public Relations and Former Student-Athlete Engagement Kevin Trainor (@KTHogs). Trainor is a graduate of the University of Arkansas and has worked for Razorback Athletics for more than 25 years.