Catalina Lobster opener 10/2/2021 not too many pics.


Before the alarm on the cell phone went off for wakeup call at 4:00 AM, I woke up to use the bathroom. It was only 3:30 AM.
"Might as well get up" said I to myself. No sense of sleeping for only a ½ an hour.
Once I was outside of the house, I noticed the heavy fog surrounding the neighborhood. However, as I drove south toward the Catalina Express terminal in Long Beach, the fog disappeared.

The 2021 lobster season had commenced at 6:00 AM and I was on the pier by 8:00 AM. I wanted to be there as early as possible,
so I can get two spots for my two hoop nets. Fortunately; unlike previous years, a local angler who would tie his nets and go home until dark, was not there.

In fact, this year I was the only one at the end of the pier fishing for lobsters. Two local ladies who I see every year were once more
hooping farther in toward the beach.

I rigged one rod with float and one with dropper loop with one hook. I made a bucket of chum consisting of bread crumbs, frozen peas
and some squid.
I used peas with the float rig and started to catch short calico bass immediately. Mostly about 8-10" variety. The biggest was 12.5",
yet short of 14" required. Almost every cast was a fish.

At one point I switched to the dropper loop rig with a piece of sardine as bait. Right away, I had a hit and a nice sheephead was hooked.
However, the fishing line somehow was snagged to the nearest pilling. I dropped my telescopic net and after some maneuvering was
lucky enough to net the fish. It was a legal one. I kept it in my sea lion proof bucket for a while, then I decided to release it.

The weather was sunny and very hot. Which it made the night a pleasant one. This time I had warm clothing just in case.

As it got dark, I loaded the bait boxes and dropped the nets in the water.

After 20 minutes, when my new kitchen timer went off, I pulled the nets. One was empty and one had a short one in it.
The second pull of the net #1, yielded four short lobsters as well as three legal ones.
Happy days are here again.
The second pull of #2 net provided no lobsters. Thus, I moved it next to the net #1.
Within four hours I had four legal bugs and about 20 short ones.

As it got later, the bug crawl slowed and eventually stopped. I set my kitchen timer to (45) minute intervals and took cat naps in
between the pulls.

1-These were all shorts and were released.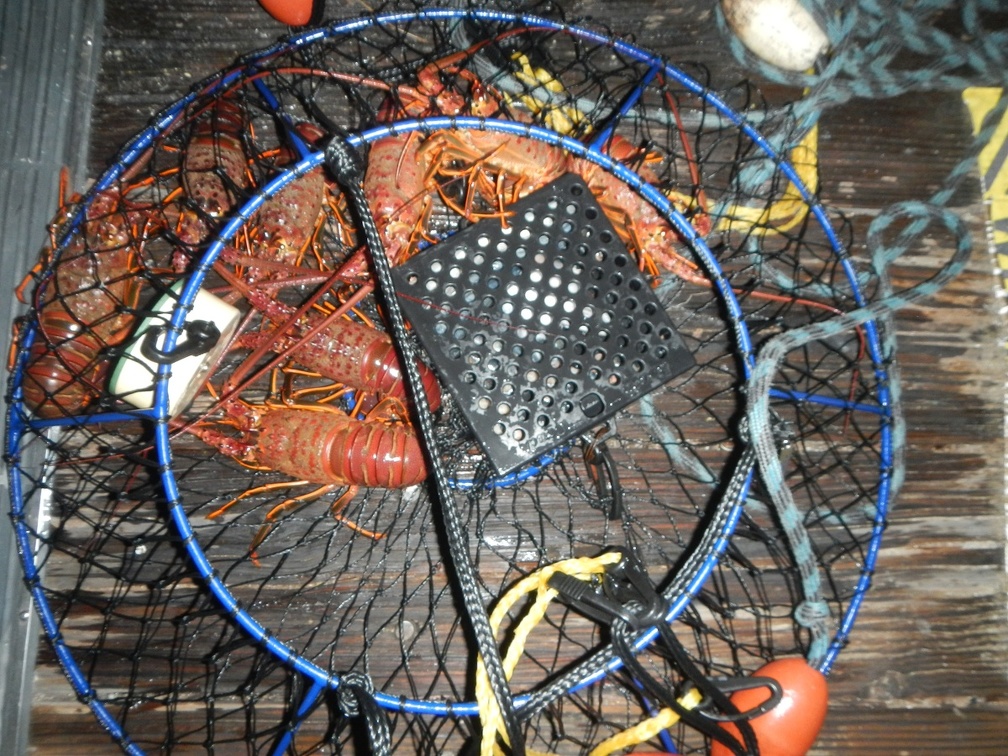 2-Four legal lobsters were kept.







At sunrise, I packed and went to Jack's coffee shop for breakfast. Then, I was off to the Cabrillo Mole.

I set up one rod for bonito fishing. My go to rig. Launcher float and buck tail hook.
Second rod was once more a single hook dropper loop for bait fishing.
I would take time off casting for bonito and do bait fishing. I landed two bonito at different times.
Did not see any bonito caught by any other anglers. Actually there were very few anglers all day.

As I landed each bonito, there were visitors lined up for boarding the Catalina Express boats.
They cheered me on with standing ovation. Well they were standing already. Heh, heh.

The only negative aspect of the day was the heat. I had not taken with my umbrella with me.
Thus, I was in sun no matter if I was sitting on the bench, or fishing at the rail.

I took time to go and rest on the benches in the shade to keep from getting heat exhaustion.


I had two small spiny sharks in the net. As to fishing, it was mostly calico bass, a sheephead, wrasse, senorita and garibaldi. Two bonito, but no barracuda.
So I don't keep the fish out of water too long, I did not take picture of every fish. You just have to take my word for it.

Having made so many Catalina reports, I resisted to take the same pictures over and over.


I took the 7:30 PM boat home. The good news was that the galley on the boat was open as well as "Commodore" lounge.



THE END