Penn leads Bellarmine to blowout win over Central Arkansas
By GREG MENGELT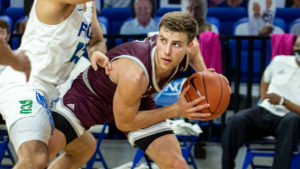 LOUISVILLE
— Senior guard
Dylan Penn
had a career night to help lead Bellarmine to an 85-63 victory over Central Arkansas at Freedom Hall on Tuesday evening.
The Knights are now 8-8 overall, and more importantly, 2-0 in Atlantic Sun play. Penn (Evansville/Memorial) went 18 for 22 from the field in the victory. He also had three reebounds, two assists and two steals for the Knights, who shot 63.2 percent as a team (36 of 57) and made 8 of their 19 3-point attempts (42.1 percent) in their second straight win.
Penn was the only Knight to score in double-figures, but freshman forward Curt Hopf (Montgomery/Barr-Reeve) and senior forward Ethan Claycomb (Vincennes) finished with nine points a piece.
Juston Betz, a senior and former Providence Pioneer, contributed eight points, five rebounds, five assists and a steal to the victory.
Central Arkansas, which is now 5-11 after suffered its first A-Sun loss, got 15 points from sophomore guard Collin Cooper and 13 from freshman guard Ibbe Klintman.
Bellarmine has a big A-Sun test Saturday when it visits Lipscomb (8-10, 1-2), which was one of the conference favorites heading into the season. That game tips at 5 p.m. and can be seen on ESPN Plus.