Jacobi, Rockets edge Miami, 75-72
By GREG MENGELT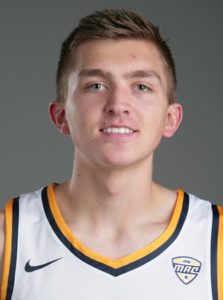 OXFORD, Ohio
— Toledo had an 11-point halftime lead Tuesday at Miami, but the Rockets had to hold off the RedHawks for a 75-72 victory at Millett Hall in Oxford.
Miami (7-7, 1-2 MAC) pulled within 71-69 with 2:04 remaining, but Toledo junior guard RayJ Dennis knocked down four keep free throws down the stretch help the Rockets improve to 12-4 overall and 4-1 in conference play.
Kooper Jacobi, a freshman who helped lead Silver Creek to two Class 3A state championships, was scoreless in 8 minutes. He was 0 for 1 from the field and had a rebound and a blocked shot in the victory.
Rockets sophomore guard Ryan Rollins led all scorers with 22 points, while junior forward JT Shumate and junior forward Setric Milliner Jr. finished with 17 points apiece.
Former Evansville Bosse star Mekhi Lairy led Miami with 17 points. The RedHawks have lost two in a row and five of their last seven.
Toledo, which is a half-game behind Ohio atop the MAC standings, goes to Bowling Green (8-7, 1-3) on Saturday. Tipoff is schedule for 5 p.m. The game can been seen on ESPN3.