Penguins Oust Capitals in OT, Claim Playoff Berth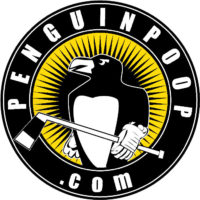 Before this season began I went on record as saying that, while I hoped our Penguins would make the playoffs, I wasn't sure we would. Truth be told, I didn't think we were a playoff team. The competition was too strong. With his scatter-gun approach to signing free-agents, I didn't feel then-GM Jim Rutherford had sufficiently addressed our needs during a rather turbulent off-season.
How wrong I was.
In many ways, last night's 5-4 overtime victory over Washington symbolized our season. It wasn't textbook by any stretch, we made plenty of mistakes and yielded a potentially crushing game-tying goal with 15 seconds remaining in regulation play. Yet we also displayed our extraordinary character and resilience.
The game didn't start out so hot from a black-and-gold perspective. Just past the seven-minute mark the Caps capitalized (pun intended) on the man-advantage thanks to a puck-over-the-glass penalty to Evan Rodrigues. Former Pen Justin Schultz blasted a one-timer from center point that was deflected in by long-time nemesis T.J. Oshie.
I confess to being worried. While the Capitals appeared to be fully invested, there seemed to be a lack of hop and urgency on our part, especially while defending in our own end.
Continue reading Penguins Oust Capitals in OT, Claim Playoff Berth at Pittsburgh Penguins - PenguinPoop Blog.