***LA Kings @ Anaheim Ducks FRIDAY GDT 4/30/21 7:00pm on KCOP Ch 13***

Official Game Day Thread
Game #48/56 -- 4/30/21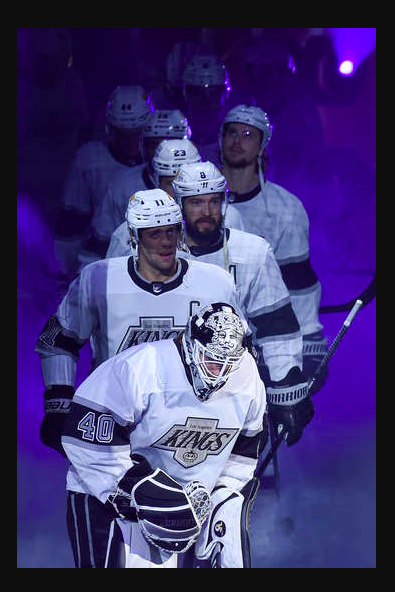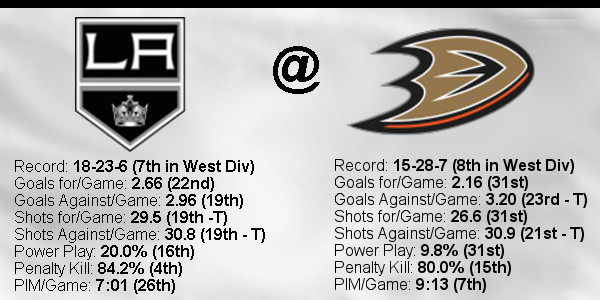 Los Angeles Kings @ Anaheim Ducks
Honda Center | Anaheim, CA
Previous Meetings:
04/28/21 —
Ducks 3,
Kings 2
04/26/21 — Ducks 1,
Kings 4
04/20/21 — Ducks 1,
Kings 4
03/10/21 —
Kings 5,
Ducks 1
03/08/21 — Kings 5,
Ducks 6
(OT)
02/02/21 —
Ducks 3,
Kings 1
**GAME TIME - 7:00 PM*

TV
:
**KCOP Ch 13 & BSSC (Duck's feed)**
Radio
:
LA Kings iHeartRadio app
Please remember,
DO NOT
post links to Live Game Streams in the GDT or anywhere else on LGK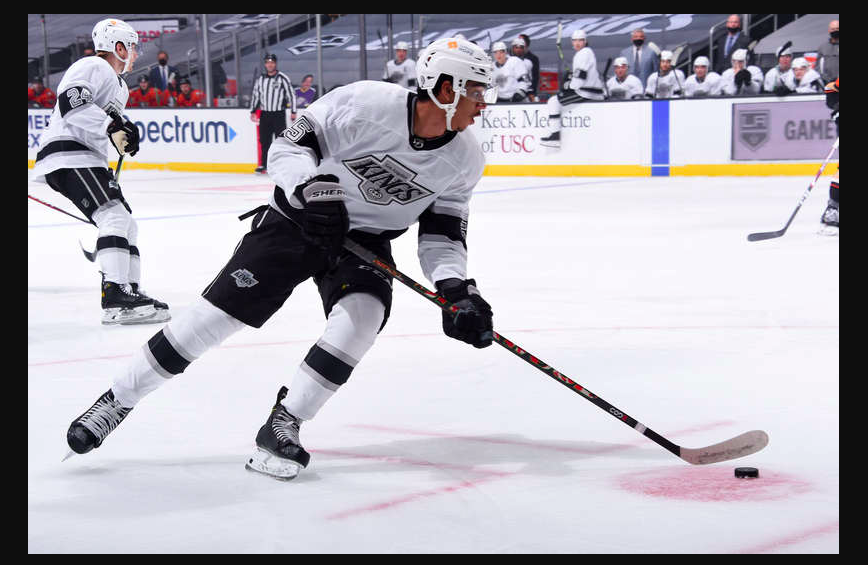 Todd McLellan Post Game Quotes 4/28/21
Check out articles on LA Kings Insider Here
Todd McLellan
On the pros/cons of getting a PPG, but also missing other opportunities:
Well, there were a lot more cons than pros, I'll tell you that. It should be a chance for us to drive a dagger into the other team and get hungry, put the game out of reach and it's not that right now. It starts from behind our own net, breaking out, guys aren't alert, they're not sharp for the puck. We very rarely attack North-South right now in the offensive zone, we want to go East-West, through everything. Sometimes the puck gets through and we just start all over again. Yeah, we got a goal tonight, it was the most direct our power play has been in a while, but the rest of it didn't meet NHL standards.
On Quinton Byfield's debut, how he settled in, and if he got stronger as he went:
I thought he started strong. The first time he stepped onto the ice, the first time he hit the ice, the puck came right to him and he made a real nice play. I'm sure that made him feel comfortable, I thought he contributed to a lot of offensive chances. He was good in the circle, he had a pretty good idea and understanding of the structure and how we wanted to play. Overall, definitely a passing grade for him, he was probably one of our better players. We had some guys that we certainly count on, night in and night out, that didn't have very good nights tonight, so that's something they need to fix.
On not easing Byfield in and if that was the thought going in:
He earned the opportunity as the game went on, as I said he was one of the better players. If we didn't trust him, and we didn't feel good putting him on the ice, we wouldn't have. I think his minutes, and the opportunity he got reflects his play, and hopefully we can grow on that.
On if he felt the game tilted towards Anaheim after the shorthanded goal:
Obviously the game went their way after that, but I didn't think the rink was tilted one way or the other. It wasn't a great game, at least from our perspective, we didn't play the way we wanted to play, and the execution…when you're not sharp, and you're not executing properly, it's going to be one ugly game and it was that for us. I don't know about their team, but certainly for us it was that.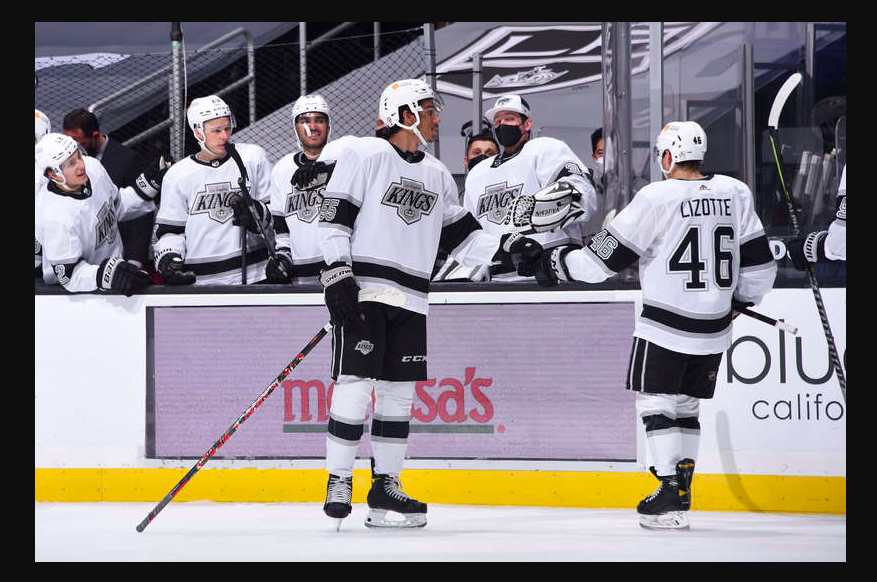 Subject To Change
FORWARDS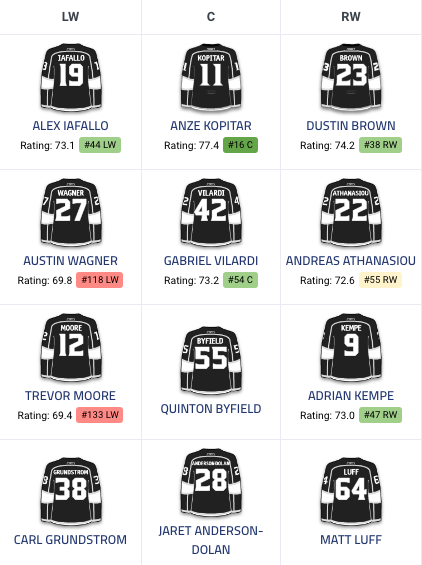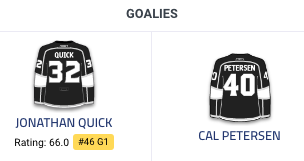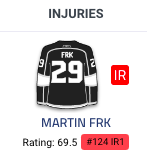 __________________________________________________
__________________________________________________
Ducks Probable Lineup
(courtesy of
www2.dailyfaceoff.com
)
FORWARDS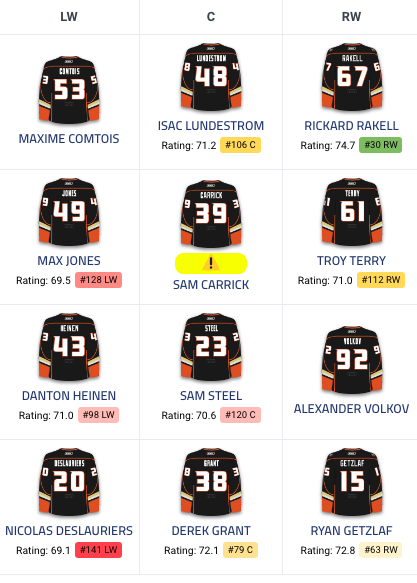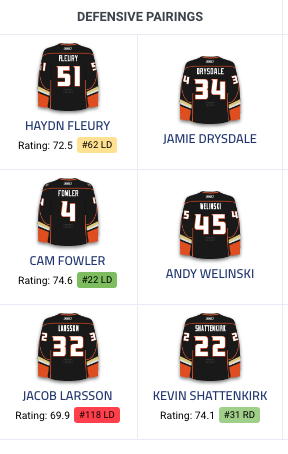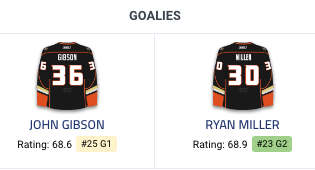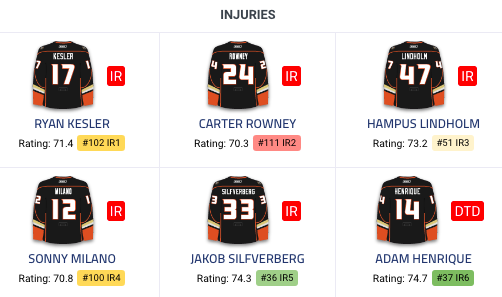 Former Kings Draft Pick
Nicolas Deslauriers
__________________________________________________ _________
__________________________________________________ _________
GOALIE COMPARISONS


PLAYER STATS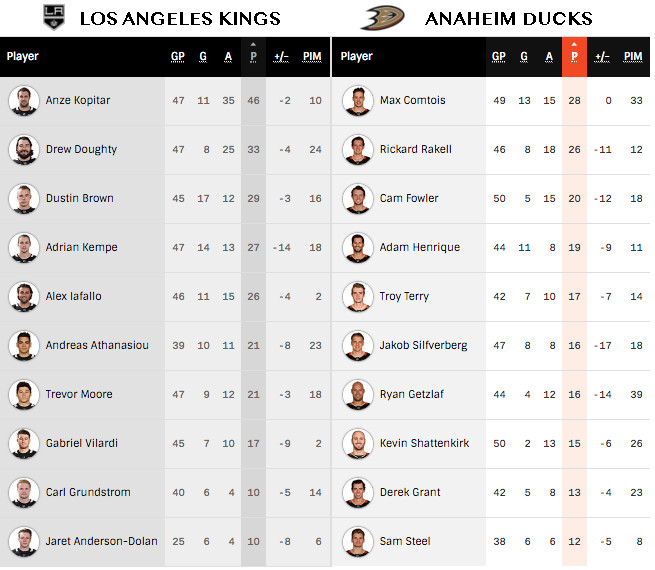 HONDA WEST DIVISION STANDINGS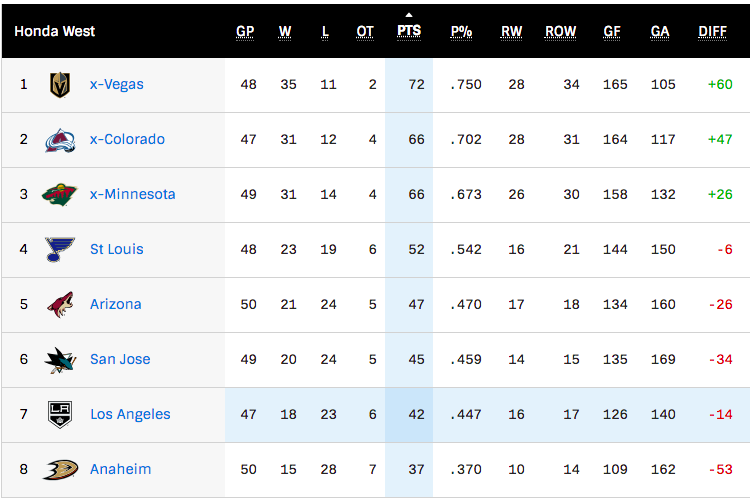 Tonight's & Tomorrow's Poll Questions:
I have a late game tonight of my own, so it's another 2-game set of poll questions.
There may be a bonus question tomorrow, not sure.

Part 1: How many TOTAL GOALS will be scored by BOTH teams TONIGHT AND TOMORROW NIGHT?
You can take 3 guesses

Part 2: Who is going to score the Game Winning Goal in Tonight's Game (Friday)?
You can take 6 guesses

Part 3: Who is going to score the Game Winning Goal in Tomorrow's Game (Saturday)?
You can take 6 guesses


Take your best guesses in your post below. The only prize is the glory of seeing your name in the next GDT if you get it right.
Previous Game's Winners
Congratulations to the following posters who correctly guessed there would be one PPG and / or that Vilardi would score it. Nobody had Carrick for the Ducks' first goal:
1 PPG:
CIrvine
sonnyboy11
Stormy2213
empire
notbob
JETS GARAGE
forum gold
John a90
VCRW
SirJW
MBreeden
hornman
Dr. Tran
AngelEyes
Liz4LA
Chateau Bow Wow
Vilardi first goal
:
MaxwellSmart
Helvetica
empire
Rogie-Vachon
Chateau Bow Wow
Poll Win Totals
King Of The Mountain
with
32
points:
Dr. Tran
31 points
AngelEyes
30 points
Liz4LA
29 points
Helvetica
LeftyKing
28 points
hornman
Rusty
27 points
John a90
Stormy2213
26 points
CIrvine
MaxwellSmart
25 points
24 points
notbob
srm1105
VegasHockey
23 points
hokiecat
Rogie-Vachon
22 points
Chateau Bow Wow
cokingsfan
sonnyboy11
VCRW
21 points
KHenry14
20 points
19 points
pray4mojo
18 points
forum gold
waynet
17 points
Clif
16 points
jammer06
JETS GARAGE
15 points
dannybuoy1
Nyssa42
SirJW
14 points
DRGinLBC
kingsmen93
13 points
12 points
JayWells24
MBreeden
Puckmaster
Sevenhole
TooCool
11 points
Busted Chops
10 points
Rawley19
9 points
empire
8 points
7 points
Joe Lavigueur
6 points
Ragbone
5 points
Byron
Histiking
Ice24
4 points
beedee
randdog
Shackleford
3 points
05/29/93
FAN4LIFE
Greg33
LAKingSteve
STONE
Tiranga
Zombitar
2 points
NobleSavage
1 point
beady eye
Dexter
Dirtweazle
Ecktore
jom
***Bet your karma in geogirl's KARMA BETTING THREAD HERE***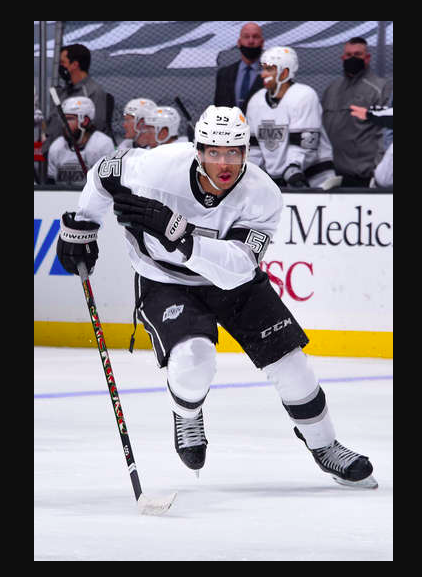 ________________________________________________
Photos courtesy of nhl.com.