Our feet really take a beating. Just think about it: from our early toddling steps to our elderly shuffling gait, our tootsies have to carry us to and fro through each of life's adventures. Keeping our feet safe is one of the primary reasons why picking activity-appropriate footwear is so important, and it is certainly the case with picking what to wear skydiving and the best shoes for skydiving.
Rules for Skydiving Shoes
Our rules for skydiving shoes aren't in place just to cramp your style. The rules for proper footwear are upheld for your safety and the safety of others.
These are the basic rules for skydiving shoes. Close-toed shoes are required to prevent you from snagging a toenail or damaging your toes. Shoes should be laced up securely because a dislodged shoe hurtling toward the earth could seriously injure a spectator or even a hapless pedestrian. Lastly, shoes with hooks are not permitted because they could scratch the instructor's legs or become a snag hazard.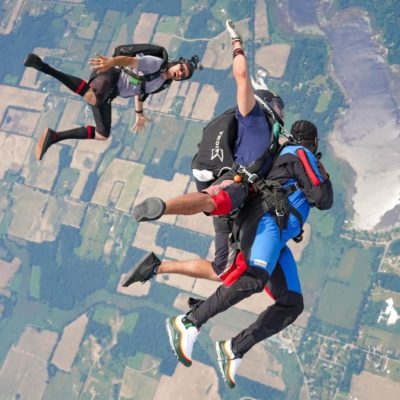 What about skydiving barefoot?
Unless you're skydiving in a coastal region with pillowy soft beach landings, skydiving barefoot is usually not allowed and, for the most part, skydiving barefoot is not a good idea. The reason you wear shoes skydiving is much like the reason you would wear shoes walking down the street or if you went tromping through the woods—it is important to protect your feet! With regard to skydiving, landing areas can hide rocks and twigs or have areas with uneven ground. In order to prevent foot injuries, we require guests to wear shoes while skydiving.
Selecting The Best Skydiving Shoes
Selecting the best skydiving shoes does not need to be a stressful affair. In general, the best shoes for skydiving are going to be comfortable sneakers or athletic shoes. Specifically speaking, in order to go the extra mile, there are a few key features a good pair of skydiving shoes should possess.
Key Features Of The Best Skydiving Shoes
Supportive
The best skydiving shoes need to provide ample ankle and arch support. Because there are times you may need to hustle across the tarmac or run out a landing, the ideal skydiving shoe needs to be able to provide enough support to comfortably handle a short jog. 
Durable
Skydiving is an active sport. If your shoes are going to fall apart after one outing, they'd be better off behind a glass case than on a skydive. This is especially true if you are planning on making more than one skydive. A pair of skydiving shoes should be able to last a full season or longer. 
Good Lookin'
Hey, as the saying goes, "if you look good, you fly good!" While this is a little bit of a joke, we have noticed that picking shoes you feel comfortable and confident in can have a positive psychological effect. Plus, a good-looking pair of shoes will stand out in your skydiving photos!
Are you still looking for a bit of direction in picking the best shoes for skydiving? Here are the skydiving kicks that make it to the top of our list.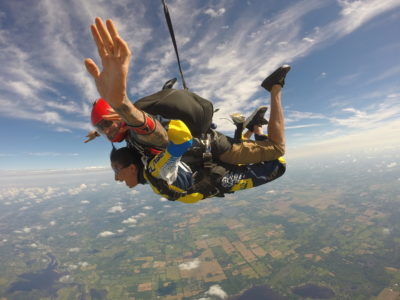 Most Popular Skydiving Shoes
Vans
Vans are well known in the skateboarding world for being lightweight, sturdy shoes. These structurally-sound skydiving shoes offer a fair amount of support, and the flat sole is perfect for sliding in landings (think Risky Business dance scene). Available in both high-top and low-slung versions with a plethora of color combinations, these shoes are highly customizable. 
Five Tens
Five Tens are becoming quite the popular skydiving shoe. Originally designed for mountain biking and built with a shock-absorbing midsole, these shoes are built for durability and long-lasting comfort. It didn't take long for a few multi-sport skydivers to discover the Five Ten made an excellent skydiving shoe too!
Nike High-Tops
Creatively inspired by the winged goddess of victory, as a skydiving shoe Nike High-Tops is a metaphorical match made in heaven. These skydiving shoes merge two things perfectly: comfort and looks. The high-top style isn't just a classic aesthetic, it also adds an extra bit of ankle support. Plus, certain models are outfitted with delightfully cushy foam throughout the midsole for that extra walking-on-sunshine feeling!
Your Favorite Pair of Sneakers
Making a skydive doesn't mean you have to update your wardrobe with a new pair of shoes. (Unless you're looking for the perfect excuse to take a trip to the mall, and in that case, by all means!) Honestly, most folks have a trusty pair of broken-in sneakers at home that would work just fine for skydiving. As long as the sneakers can lace up securely and are comfortable to wear, you are good to go!
Ready to lace up and jump? Contact us to schedule your skydive with Skydive Tecumseh today!
The post Best Shoes for Skydiving appeared first on Skydive Tecumseh.